Herefordshire isn't just about walking and cider routes but also about having amazing experiences, getting creative and developing a new skill. So why not combine a wonderful overnight stay, some incredible food and delectable countryside with an experience you'll never forget.
Here's our guide to some 'Exceptional and Terrific Experiences to Enjoy' in Herefordshire.
WYE VALLEY FALCONRY
If you and your family enjoy being outdoors then you'll love spending time with Wye Valley Falconry deep in the beautiful Herefordshire countryside. Rated by TripAdvisor as the No.1 outdoor attraction in Herefordshire, Wye Valley Falconry offers enthralling experience days to fly and handle birds of prey, raptors and owls. It's definitely up close and personal.
Book here: wyevalleyfalconry.co.uk
PETER COOK'S BREADMAKING MASTERCLASS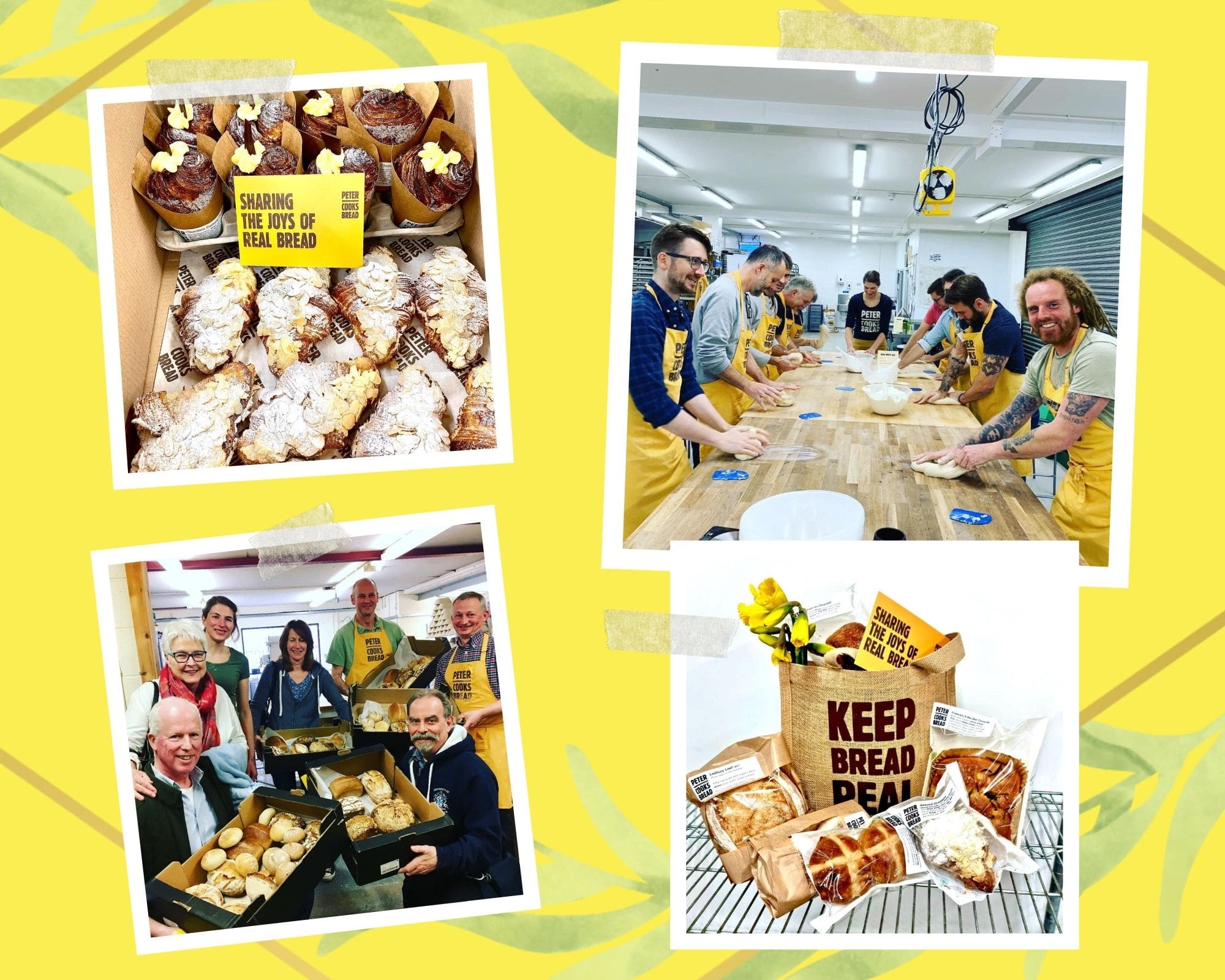 There is no denying that award winning Peter Cooks Bread is delicious, scrumptious and delightful. So you'll be pleased to hear that you can now spend a day of flour-filled fun in their bakery at The Hop Pocket at Bishops Frome and find out how to make your own 'Real Bread' at home.
Discover the secrets of the distinctive flavours and textures with a practical, hands on experience you'll never forget. Whether you're a complete beginner or looking to perfect your loaf – they have a workshop for you.
Book here petercooksbread.co.uk/workshops
HUNTLAND'S FARM UPHOLSTERY WIZARDRY
If you've always fancied reupholstering your favourite chair but just didn't dare try it on your own. Now's your chance to get cracking under the expert guidance of Lucy at Huntlands Farm.
Combine your love of upholstery and the countryside with an upholstery workshop set within this beautiful unique rural retreat on the Herefordshire and Worcestershire border. Take a much loved or new project along and learn more about traditional and modern techniques that will take you to a new level.
Choose from a weekend or week long course where you can immerse yourself in your own project, enjoy the wonderful countryside surroundings of Whitbourne and sample some amazing food too.
Book here huntlandsfarm.co.uk/upholstery
EASTNOR POTTERY THROW DOWNS
Escape to the country, within the grounds of Eastnor Castle near Ledbury and spend a relaxing day or weekend learning how to make pottery on the potter's wheel.
Eastnor Pottery offer remarkable pottery experiences for individuals and groups. Working with all ages and abilities, exploring creativity and sharing the therapeutic benefits of working with clay.
You'll love the wonderful welcome you'll receive and its great fun too.
Book here eastnorpottery.co.uk/
THE WOODEE 'ALFRESCO COOKING TO PERFECTION'
If the summer means eating alfresco as much as possible, you might want to hone your fire pit cooking skills at an experience day with the experts.
On a 'Woodee Experience Day' you'll learn how to cook up a veritable feast of delicious food. Learn about fire lighting techniques and fire pit management and how to cook a variety of easy-to-replicate dishes at home. In no time you'll be able to confidently make your own tasty creations on a fire pit to share with family and friends. Think canapes and starters, main course and delicious puddings!
So whether you're a beginner or into more advanced entertaining, you'll love spending the day with the Woodee in the gorgeous Dorstone countryside cooking up a foodie storm.
Book here thewoodee.com/woodee-experience
GIN MAKING WITH BLACK MOUNTAIN BOTANICALS
Spend an afternoon at award-winning Herefordshire distillery Black Mountain Botanicals where their master distiller will give you all the training needed to distil your own personal bottle of Gin.
Located at the foot of the Black Mountains you'll receive a very warm welcome from the team, whose experts will guide you every step of the way. Firstly you'll embark on a tour of the Gin distillery room and learn about the gin making process before you're let loose on creating your own tipple. With the help of the master distiller, you'll soon know what ingredients you need, which flavour profile you fancy and your most favourite botanicals to add. Then with a little bit of G&T magic, you'll have your own personalised stoneware bottle of the good stuff to take home and share.
Book here blackmountainsbotanicals.co.uk/
The Golden Valley is one of Herefordshire's most beautiful areas so along with the experience why not book the Bridge Farmhouse Holiday Cottage or one of the cosy yurts which are conveniently located close to the distillery and the local pub.
It all sounds rather fantastic to us!
Book here ruralselfcatering.co.uk/
CREATIVE BREAKS
There's nothing quite like using your artistic flair to create something rather wonderful or completely learning something new. Creative Breaks offer courses in a variety of traditional and contemporary arts and crafts which all take place in beautiful rural settings in Herefordshire. So nurture your creative soul with an arts and crafts holiday in an attractive country location. With a range of workshops to suit the traditional and contemporary artist in you. Try your hand a felting, sculpture, glass fusing, stained glass, stone carving, upholstery or basket weaving, there's plenty of creative activities to choose from.
Book here creativebreaks.co.uk
h.Art A WEEK OF CREATIVE WONDER
Herefordshire Art Week is a nine day art trail open to all. Artists, craft makers and creative businesses open their private studios every day from 11am – 5pm just for you. Look out for special events and experiences at galleries along with one-off exhibitions all housed in a wonderful mix of interesting venues all across Herefordshire.
Experience this creative showcase from the 2 – 10 September and enjoy exploring not only our wonderful county but the work of our local artists too.
For more information click here h-art.org.uk
CUP CERAMICS COMMUNITY
Cup Ceramics Community, located in Hereford City is a hot bed of pottery experts with an absolute passion for getting their hands on clay and turning it into something rather fantastic! They love sharing their knowledge with absolute beginners or those with more experience and are never happier when they're discussing kilns, glazing, ceramics or having a 'throw down'.
Choose from a wide variety of sessions depending on your experience and you'll enjoy every moment spent with this amazing team.
Book here cupceramics.com/courses
CHOCCOTASTIC WORKSHOPS
Did you know that in the beautiful market town of Ledbury you'll find an emporium full of chocolate goodies, handmade luxury bespoke Belgian chocolate products and lots of other delicious delights? Ever wondered how they're made or fancy having a dabble at being a chocolatier? Well now you can, their chocolate making workshops are as you would expect rather divine and involve a lot of taste tasting we hear. So if you have a love of all things chocolate, this delightful experience is perfect for you!
For more information click here choccotastic.com
We hope we've inspired you with our '10 Terrific Experiences to Enjoy' in Herefordshire. Need some more ideas? Take a look here eatsleepliveherefordshire.co.uk/live
For great places to EAT out in Herefordshire click here https://www.eatsleepliveherefordshire.co.uk/eat-in-herefordshire
For perfect places to STAY in Herefordshire click here https://www.eatsleepliveherefordshire.co.uk/accommodation-in-herefordshire
For amazing places to ENJOY in Herefordshire click here https://www.eatsleepliveherefordshire.co.uk/live