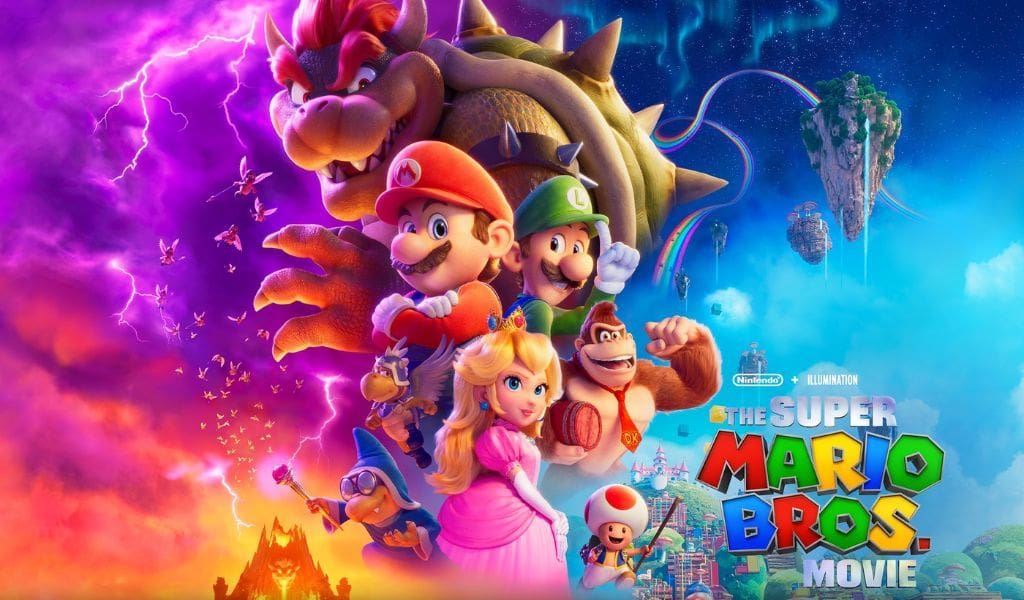 Films at The Courtyard June 2023
Sit back and relax in The Courtyard Cinema with their intimate 120 seater Studio screening up to 4 films a day from Monday – Saturday. Or, you can immerse yourself in the big screen on the Main House stage.
From brilliant blockbusters to art-house films. Or, spectacular Live Screenings from around the world to local writers first work. Even, Borderlines Film Festival to Courtyard Family Saturday screenings. There's something for everyone at The Courtyard Cinema.
Refreshments are included in the ticket price of regular Breakfast Screenings. Look out for pre-screening readings, debates, discussions and more! Remember to take a look on the website or ask Box Office if a film you want to see has anything extra happening.
See below for the fantastic range of films at The Courtyard Centre for the Arts this June.
Thu 1, 11am
THE UNLIKELY PILGRIMAGE OF HAROLD FRY (12A)
A seemingly unremarkable man in his 60s named Harold one day learns his old friend Queenie is dying. He embarks on a walk, only to keep going for 450 miles until he reaches Queenie's hospice, much to the despair of his wife Maureen. Based on Rachel Joyce's best-selling novel.
Audio Description available.
Thu 1, 7.30pm
RENFIELD (15)
R.M. Renfield decides to leave his centuries-long line of work as a henchman and familiar to Count Dracula and finds a new lease on life in modern day New Orleans when he falls in love with a feisty but perennially aggressive traffic cop named Rebecca Quincy.
Audio Description and Subtitled Screening available.
Thu 1 & Sat 3
DUNGEONS & DRAGONS: HONOUR AMONG THIEVES (12A)
A charming thief and a band of unlikely adventurers embark on an epic quest to retrieve a lost relic, but things go dangerously awry when they run afoul of the wrong people.
Audio Description available.
Thu 1 & Sat 3
THE SUPER MARIO BROS. MOVIE (PG)
A Brooklyn plumber named Mario travels through the Mushroom Kingdom with a princess named Peach and an anthropomorphic mushroom named Toad to find Mario's brother, Luigi, and to save the world from a ruthless fire-breathing Koopa named Bowser.
Audio Description available.
Fri 2 – Wed 7
RETURN TO SEOUL (15)
A twenty-five-year-old French woman returns to Korea, the country she was born in before being adopted by a French couple, for the very first time. She decides to track down her biological parents, but her journey takes a surprising turn. Foreign language with English subtitles.
Fri 2 – Wed 21
ARE YOU THERE GOD? IT'S ME MARGARET (PG)
Based on Judy Blume's iconic 1970s novel. Eleven-year-old Margaret moves to a new town and starts to contemplate everything about life, friendship and adolescence. She relies on her mother, Barbara, who offers loving support, and her grandmother, Sylvia, who's coming to terms with finding happiness in the next phase of her life. Questions of identity, one's place in the world, and what brings meaning to life soon brings them closer together than ever before.
Subtitled Screenings available.
Mon 5 – Fri 9
POLITE SOCIETY (12A)
A merry mash up of sisterly affection, parental disappointment and bold action, Polite Society follows martial artist-in-training Ria Khan who believes she must save her older sister Lena from her impending marriage. After enlisting the help of her friends, Ria attempts to pull off the most ambitious of all wedding heists in the name of independence and sisterhood.
Audio Description and Subtitled Screenings available.
Mon 5 – Sat 10
SUZUME (PG)
As the skies turn red and the planet trembles, Japan stands on the brink of disaster. However, a determined teenager named Suzume sets out on a mission to save her country. Able to see supernatural forces that others cannot, it's up to her to close the mysterious doors that are spreading chaos across the land. A perilous journey awaits as the fate of Japan rests on her shoulders. Foreign language with English subtitles, excluding dubbed screening on Saturday 10 June, 2.30pm.
Thu 8 – Thu 15
LOVING HIGHSMITH (12A)
Loving Highsmith examines the life and work of Patricia Highsmith, the iconic author of thriller classics such as The Talented Mr. Ripley and Strangers on a Train. Filmmaker Eva Vitija uses diaries, notebooks, and the intimate reflections of her lovers, friends and family.
Fri 9 – Thu 15
BOOK CLUB: THE NEXT CHAPTER (12A)
Four best friends take their book club to Italy for the fun girls trip they never had. When things go off the rails and secrets are revealed, their relaxing vacation turns into a once-in-a-lifetime cross-country adventure.
Audio Description and Subtitled Screenings available.
Sat 10, 5.15pm
PLASTIC WARRIORS (CERT TBC)
Has our plastic problem improved? Despite enormous public, industry and policy attention in the past 5 years, this new eye-opening feature documentary investigates the damaging effects plastic pollution is continuing to have on our health, lifestyle, and wildlife with a strong focus on the UK. The film tells the story of the Plastic Warriors – from eminent scientists, campaigners on the front line, to the innovators and designers working on solutions to solve this global crisis that politicians and governments are largely ignoring. The film takes audiences on a journey to deep sea coral reefs, basking shark hotspots and huge seabird colonies, to discover first-hand the extreme danger of the scourge of plastic that is engulfing every aspect of their lives. Plastic Warriors is an urgent reminder about the wider issues and a film that inspires action. As a part of The Courtyard's environmental commitments, you can get a free ticket to this film if you arrive using sustainable travel (public transport, cycle, walk etc.). Just let our Box Office know on the day of the screening to claim your ticket.
Mon 12 & Tue 13
THE EIGHT MOUNTAINS (12A)
In a secluded village in the Italian Alps, an unlikely brotherhood forms between two young boys: Pietro, a boy from the city, and Bruno, who has only ever known life in the mountains. Over the years Bruno remains faithful to his home while Pietro aspires to greater heights, but as decades pass and lives unfold, their paths ultimately lead them back to where they first met – and back to each other. Set against a truly magnificent Italian landscape, The Eight Mountains is a profoundly moving portrait of a lifelong friendship. Foreign language with English subtitles.
Wed 14, 5.15pm
LOVE ACCORDING TO DALVA (15)
Dalva is 12, but she dresses and lives like a woman. One day, she's taken away from her house. Dumbfounded at first, she later meets Jayden, a social worker, and Samia, a teen with a temper. A new life seems to start for Dalva. Foreign language with English subtitles.
WES-TERDAY SCREENINGS:
Ahead of the release of Asteroid City The Courtyard Cinema revisits the work of American Writer-Director Wes Anderson. Famous for his unmistakable visual style of symmetry and pastel colours, paired with witty and moving dialogue. With an impressive portfolio and such a consistent level of quality, Anderson now sits amongst the worlds most loved filmmakers. Book for all three Wes-terday screenings for just £15!
Sat 17 & Mon 19
WES-TERDAY 1: BOTTLE ROCKET 1996 (15)
Back where it all began, Bottle Rocket was Wes Anderson's hilarious first feature film. After being released from a mental hospital, Anthony finds that his wacky friend Dignan is more determined than ever to begin an outrageous crime spree. After recruiting their neighbour, Bob, as getaway driver, the team embarks on a road trip in search of their first big heist. But the more they learn, the more they realize that they do not know the first thing about crime. Before the release of Asteroid City, you can book for all three of our Wes-terday screenings for just £15!
Tue 20 & Wed 21
WES-TERDAY 2: THE DARJEELING LIMITED 2007 (15)
Ten years later, Wes Anderson was already on to his fifth feature length film! A year after the accidental death of their father, three brothers meet for a train trip across India. Amid foreign surroundings, can the brothers sort out their differences? A funeral, a meditation, a hilltop ritual, and the Bengal Lancer figure in the reconciliation. Before the release of Asteroid City, you can book for all three of our Wes-terday screenings for just £15!
Thu 22 & Sat 24
WES-TERDAY 3: THE GRAND BUDAPEST HOTEL 2014 (15)
Moving on to what many consider to be his masterpiece, The Grand Budapest Hotel has been a fan favourite since its release and received 4 Academy Awards. A writer encounters the owner of an aging high-class hotel, who tells him of his early years serving as a lobby boy in the hotel's glorious years under an exceptional concierge. Before the release of Asteroid City, you can book for all three of our Wes-terday screenings for just £15!
Sat 17, 5.15pm
CULT CLASSIC: RAGING BULL 1980 (15)
Witness the rerelease of Martin Scorsese's Raging Bull featuring the award-winning performance from Robert De Niro. The life of boxer Jake LaMotta, whose violence and temper that led him to the top in the ring destroyed his life outside of it.
Sat 17 – Thu 22
LOVE AGAIN (12A)
Coping with the loss of her fiancé, Mira Ray sends a series of romantic texts to his old phone number, not realizing it was reassigned to journalist Rob Burns. Rob becomes captivated by the honesty of her words. Love Again is a remake of the 2016 German hit film SMS für Dich, itself based on Sofie Cramer's novel.
Subtitled Screenings available.
Mon 19 – Mon 26
THE THREE MUSKATEERS: D'ARTAGNAN (15)
D'Artagnan arrives in Paris trying to find his attackers after being left for dead, which leads him to a real war where the future of France is at stake. He aligns himself with Athos, Porthos and Aramis, three musketeers of the King. Foreign language with English subtitles.
Wed 21 – Wed 28
LITTLE RICHARD: I AM EVERYTHING (15)
Throughout his life, Little Richard careened between religion, sex and rock 'n' roll. A treasure trove of archival material brings to life a revolutionary figure, one who reinvented popular music as the ultimate form of self-expression.
Wed 21 & Sat 24
BEAU IS AFRAID (15)
From the Director of Midsommar and Hereditary comes a bizarre horror-epic starring Joker's Joaquin Phoenix. Following the sudden death of his mother, a mild-mannered but anxiety-ridden man confronts his darkest fears as he embarks on an epic, Kafkaesque odyssey back home.
Fri 23 – Thu 29
THE LITTLE MERMAID (LIVE ACTION) (CERT TBC)
We're going 'Under the Sea' this June to visit Ariel, Flounder and Sebastian with the release of Disney's live-action The Little Mermaid. A young mermaid makes a deal with a sea witch to trade her beautiful voice for human legs so she can discover the world above water and impress a prince.
Subtitled Screenings available.
Fri 23 – Mon 26
HOW TO BLOW UP A PIPELINE (15)
With the climate crisis at a dangerous point of no return, a group of brave environmental activists come up with a daring plan to make their voices heard and disrupt an oil pipeline.
Sat 24 – Thu 29
AIR (15)
Based on true events as Sonny Vaccaro and Nike pursue basketball rookie Michael Jordan, creating a partnership that revolutionizes the world of sports and contemporary culture.
Audio Description and Subtitled Screenings available.
Tue 27 – Thu 29
A CRACK IN THE MOUNTAIN (12A)
A small, impoverished Vietnamese community struggles to deal with the opportunity and challenges that arise when Hang Son Doong, the largest cave in the world and a place of extraordinary natural beauty is discovered nearby.
29
Jun 23
This event has passed
Fees & Tickets
£8 Concessions £7.50 Children Under 16 £6

Event Location
The Courtyard Centre for the Arts Edgar Street Hereford HR4 9JR
Organiser: The Courtyard
Location Map