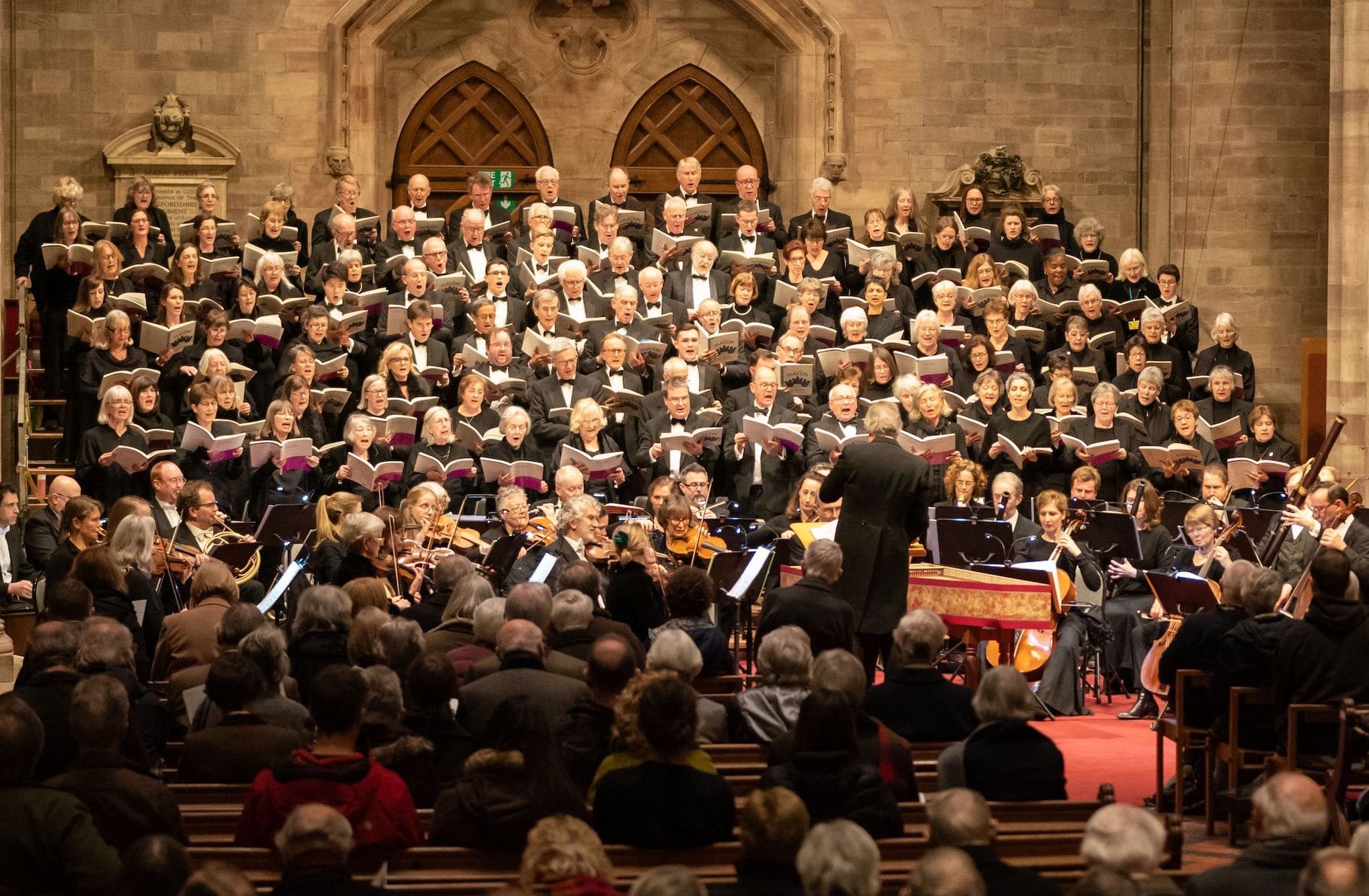 Hereford Choral Society Spring Concert
Hereford Choral Society Spring Concert is Handel anthems and Bach Magnificat.
In the year that marks the 75th anniversary of the accession of Queen Elizabeth II to the throne, Hereford Choral Society begins its spring concert with The King shall rejoice, one of the four brilliant anthems written by Georg Frideric Handel for the Coronation in 1727 of her predecessor George II. Handel's music was said to have outshone even the jewellery of Queen Caroline in its magnificence. The King shall rejoice was performed at the precise moment of the coronation.
It will be followed by another ceremonial piece by Handel: his setting (in English) of the Latin hymn 'Te Deum laudamus' / 'We praise thee, O God', written in 1743 to celebrate the victory of a coalition of British, Hanoverian and Austrian troops over the French at the Battle of Dettingen, from which it takes its nickname. George II had commanded his troops on the battlefield, the last British monarch to do so, so the anthem also celebrated his safe homecoming, and is full of military-style flourishes of trumpets and drums.
The culmination of our concert is Johann Sebastian Bach's great setting in Latin of the Magnificat, one of the great texts of Christian worship: the Canticle or Song of Mary, in which she expresses her exultation in telling her cousin Elizabeth that she is to be the mother of the Son of God. The Magnificat would normally have been sung in German, the language of the Lutheran churches where Bach worked, but Latin was used for the great feast days of Christmas, Easter and Whitsun. This spectacular setting was written for the afternoon of the composer's first Christmas Day as Director of Music at St Thomas's Church, Leipzig, in 1723. It features five vocal soloists and the largest orchestra that would have been available to Bach for church services at the time, including three trumpets to give real brilliance to the sound. This is one of the most technically demanding pieces Bach wrote for chorus – it is very concise, but truly thrilling either to sing or to hear.
The soloists in the concert are Lauren Lodge-Campbell and Ellie Neate, sopranos; Feargal Mostyn-Williams, countertenor; David de Winter, tenor and Jack Comerford, bass.
The period instrument orchestra Marches Baroque will be conducted by Geraint Bowen.
Tickets from only £10 (unreserved) may be booked online or from the Three Choirs Festival Box Office: 01452 768928
Up to 2 children under 16 will be admitted free of charge when accompanied by an adult. Parties of 10 or more receive a group discount of 10%.
19
Mar 22
This event has passed
Location Map