Kentchurch Court, home of the Lucas-Scudamore family has survived for nearly 1000 years through political alliances, intrigue, advantageous marriages and strong women!
Lying beneath Garway Hill in the Monnow valley, close to the city of Hereford, this beautiful historic house and gardens are not to be missed whilst visiting Herefordshire.
Features of the gardens include a Rhododendron wood, walled garden and a vegetable garden. Around 250 deer live in The Deer Park, where examples of ancient trees including Yew, Chestnut and a number of large Maple trees can be found.
Kentchurch Court is Steeped in history dating back as far as 1058. Read more about the house, family and history.
The gardens are open to the public from Good Friday to 30 September. The house is available for group visits of 5 or more, by appointment only. Please check the calendar for opening times and days.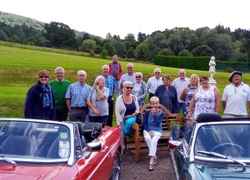 Kentchurch Court is a perfect destination for walkers and cyclists to use as a base. Taking advantage of the tea room for their refreshments. Painting groups are welcome to use the gardens and house for inspiration and car clubs often include Kentchurch Court in their itineraries.
Dogs are welcome on leads and most of the gardens are wheelchair accessible.