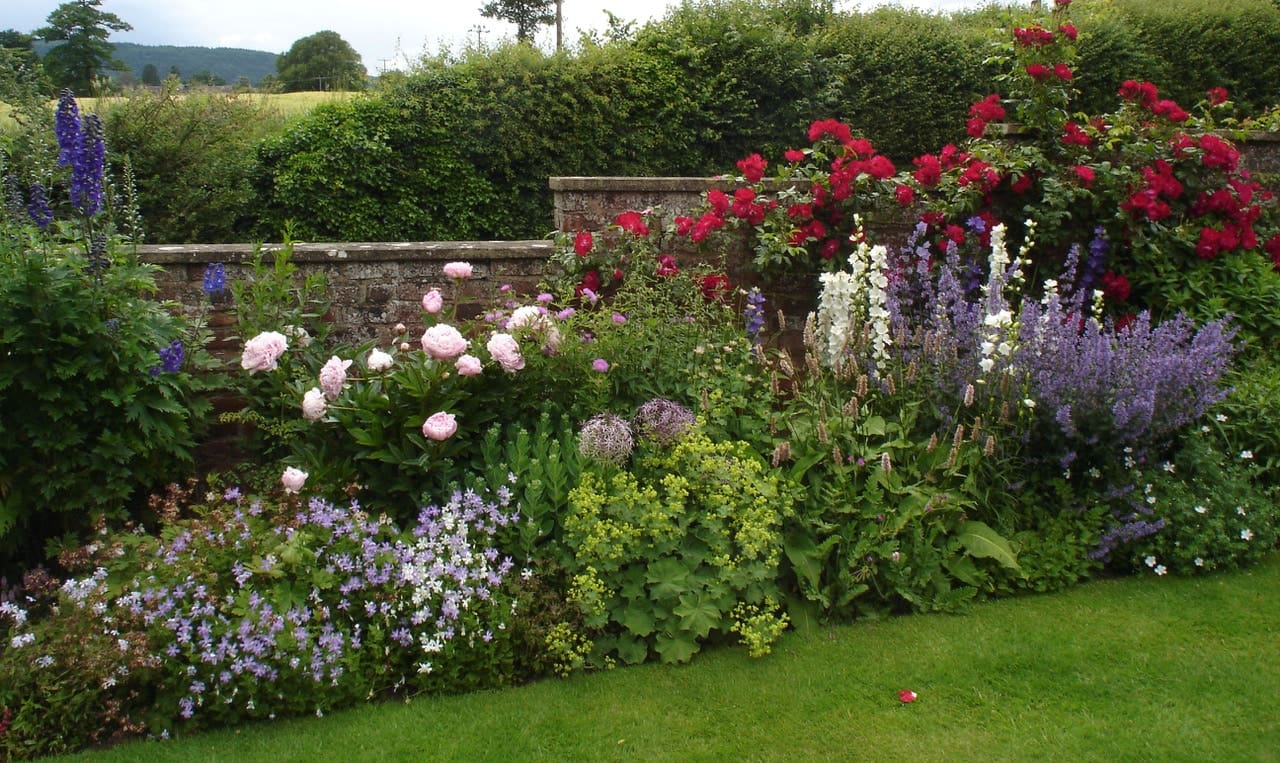 Open Gardens at Burghill
Three Open Gardens at  Burghill on Sunday, 9th July in aid of St Michael's Hospice
Home Farmhouse
Burghill
HR4 7RJ
Rick and Carole Shallcross
Dogs on leads welcome
Refreshments available
The gravel drive and one or two steps on the paths may make it difficult for wheelchairs to manoeuvre.
Work on the one-acre garden at Home Farmhouse began in 2000 with the laying of paths, and the planting of yew and beech hedges which divide the garden into 'rooms'. The herbaceous borders are filled with cottage garden plants, roses, clematis, lupins, delphiniums, astrantia, phlox, veronicas and penstemons. The shrubbery has many early flowering shrubs, underplanted with bulbs, hellebores and epimedium, while in the summer an 'Annabelle' hydrangea, nepeta, lavender and scabious are present. There are two wildlife ponds surrounded by a bog garden of primulas, grasses, ferns and ligularia. A parterre has a circle of hornbeam trees with box shapes at its base.
At the rear of the house are two 'hot' borders of bright dahlias, rudbeckias, monada and heleniums, as well as vegetable plots and a greenhouse.
A patio and garden seats are dotted about the garden. At the side of the drive is a large grass area for children to play, with two swings, a slide and football goalposts.
Daimor
Burghill, HR4 7RN
Max and Janet Jenman
Dogs on leads welcome
The garden can be accessed by a wheelchair.
Disabled car parking available; other parking nearby.
The garden at Daimor has been established since 2007 and covers about three-quarters of an acre. It was designed for family use and enjoyment and has been featured in the NGS (National Garden Scheme) in the past. The design was conceived with the aim of being easy to maintain. At the bottom of the garden is a fenced area with a wildlife pond in which newts can often be seen. This area is surrounded by a wildflower border, next to which is a vegetable area. The main back garden comprises a large lawn area surrounded on one side by a cottage-style border with a greenhouse, children's tree house and slide. On the other side is a rose and lavender walk.
The front garden consists of a croquet lawn, or games area for the children.
There is also a small pond and water feature, again surrounded by cottage-style planting.
In the corner is an old shepherd's hut which has now been converted to a dog kennel.
White Hall Cottage
Burghill, HR4 7RL
Nick and Wendy Previté
Dogs on leads welcome
There are steps leading to the garden. Pathways uneven in places.
White Hall Cottage is a Georgian property built in 1773 and surrounded by about a third of an acre of garden.
The garden comprises an herbaceous border, hidden behind a red brick wall to the west of the property, and lawns to the south, which are edged with shrub borders. The property also enjoys the benefit of a very productive raised-bed vegetable garden and a variety of fruit on the eastern side. In addition there is also a 19th century barn, which houses an original cider mill and press, and which the owners occasionally use to make traditional cider. There is also a small patio area that is well supplied with plants in pots and containers throughout the year, and seating for about half a dozen people.
From Hereford, exit the A4103 Roman Road onto Tillington Road. After just over one mile, turn right (signposted Burghill). After passing two semi-detached properties on the right you will come to Home Farmhouse on the right – a three-storey brick house.
Continuing along the road from here you soon reach the red-bricked White Hall Cottage on the right-hand side.
From here, take the next left and after about 400 yards you will reach Daimor on the left.
For further information visit st-michaels-hospice.org.uk/event-type/open-gardens/
09
Jul 17
This event has passed
Fees & Tickets
£5.00

Adults £5, children u12 free

Event Location
Burghill

Location Map